Home » Italian Composers » Domenico Scarlatti
Domenico Scarlatti
Links
Global Scarlatti Marathon - online recordings of nearly all of the keyboard sonatas, played around the world on 1 December 2006.
Ottavia Restituita al Trono (Naples 1703), Domenico Scarlatti's first opera. Notes by Dinko Fabris for the 2007 performances by the Cappella della Pietà de'Turchini directed by Antonio Florio.
Recordings
Virtuosité Baroque. D. Scarlatti, Iste Confessor & Stabat Mater. Uccellini, Bergamasca. Rubino, Lauda Jerusalem. Corelli, Sonata. Lotti, Credo. Vivaldi, Laetatus sum. Bel Air Classiques (1 DVD (Region 0), September 2014). Video. Jean-Philippe Sarcos, Le Palais Royal. UK | FR | DE
Domenico Scarlatti. Narcisso (Rome 1714). RCOC. Forthcoming. Details. Juan Bautista Otero, Real Compañía Ópera de Cámara (RCOC).
Domenico Scarlatti. Violin Sonatas. Brilliant Classics 94325 (1 CD, August 2013). Details. Paolo Perrone, violin. Alexandria Nigito, harpsichord. Capella Tiberina. US | UK | FR | DE | CA | JP
Domenico Scarlatti. Tolomeo e Alessandro (Rome 1711). DG-Archiv 47640349 (3 CDs, 2010). Details. Released in Spain only in the collection Los Siglos de Oro of the Fundación Caja Madrid in a very limited edition and now out of print. Qobus offers a CD quality download without the Italian/English/Spanish libretto, but the last time I checked they would not do business with Americans. Only mp3 downloads are available elsewhere. Alan Curtis, Il Complesso Barocco. Tolomeo: Ann Hallenberg, mezzo-soprano; Seleuce: Klara Ek, soprano; Elisa: Roberta Invernizzi, soprano; Araspe: Theodora Baka, mezzo-soprano; Alessandro: Raffaella Milanesi, soprano; Dorisbe: Mary-Ellen Nesi, mezzo-soprano. This may be the early opera recording most in need of a reissue. Instead, Archiv brings out the (ugh!) Jacobs Orlando. Superb performance and recording - highly recommended. Haym derived the libretto of Handel's Tolomeo from Capece's libretto. See Strohm, Dramma per musica (Yale U.P. 1997, pp. 201-19). FR
Domenico Scarlatti, Vinci, Pergolesi. Scarlatti and the Neapolitan Song - Sonatas & Canzonas. Brilliant Classics 94488 (1 CD, January 2013). Details. Letizia Calandra, soprano. Francesco Cera, harpsichord. Michele Pasotti, guitar. Scarlatti sonatas alternating with Neapolitan songs, exploring the influences of the songs on the sonatas. US | UK | FR | DE | CA | JP
Domenico Scarlatti. La Dirindina (Intermezzo, 1715). cpo (1 CD, September 2012). Federico Guglielmo, L'Arte dell'Arco. Don Carissimo: Giulio Mastrotaro, bass; Dirindina: Marina Bartoli, soprano; Liscione: Makoko Sakurada, tenor. In La Dirinidina, the old music teacher, Don Carissimo, spies on Dirindina and the castrato Liscione (transposed down an octave on this recording) as they rehearse a scene from Didone abbandonata and misapprehends the situation, leading to the closing trio in which he sings "Give me your hand, Liscione, give me yours Dirindina, for your little child will be legitimate", and they respond "Stop -- I'm a capon! Stop -- I'm a hen! A pair like that doesn't get together and never lays an egg." La Dirindina was performed at the 2012 Innsbrucker Festwochen by Alessandro De Marchi with David Hansen, countertenor as Liscione. Details. US | UK | FR | DE | CA | JP
Domenico Scarlatti. La Dirindina (Intermezzo, 1715), Cantata Pur nel sonno & sonatas. Sono Luminus DSL-92159 (1 CD & Blu-ray disc, August 2012). Ars Lyrica Houston. Don Carissimo: Brian Shircliffe, baritone; Dirindina: Jamie Barton, mezzo-soprano; Liscione (also transposed down an octave on this recording): Joseph Gaines, tenor. Céline Ricci, soprano in Pur nel sonno. US | UK | FR | DE | CA | JP
Domenico Scarlatti. Clavecin Migliai 1763. Intégral (1 CD, March 2012). Details. Aline D'Ambricourt, harpsichord. UK | FR | DE
Domenico Scarlatti. Sonatas. Metronome METCD 1087 (1 CD, March 2012). Details. Carole Cerasi, harpsichord. US | UK | FR | DE | CA | JP
Domenico Scarlatti. Vivi felice. Pan Classics PC 10258 (1 CD, January 2012). Diego Ares, harpsichord by Joel Katzman after Francisco Pérez Mirabel, Seville 1734. US | UK | FR | DE | CA | JP
Domenico Scarlatti. Sonatas for Viola d'Amore. Brilliant Classics (1 CD, September 2011). Valerio Losito, viola d'amore; Andrea Coen, harpsichord. US | UK | FR | DE | CA | JP
Domenico Scarlatti. De Naples à Madrid - Missa Quatuor Vocum (Missa de Madrid) / Stabat Mater (1714) / Te Deum. Ligia Digital (1 CD, October 2010). Details. Joël Suhubiette, Ensemble Jacques Moderne. US | UK | FR | DE | CA | JP
Domenico Scarlatti. Salve Regina. OBS Prometeo (1 CD, August 2010). Nicolau de Figueiredo, Orquesta Barroca de Sevilla. Carlos Mena, countertenor. US | UK | FR | DE | CA | JP
Domenico Scarlatti. Missa di Madrid (1754), Stabat Mater, Missa "La Stella". Tactus TC 681906 (1 CD, May 2008). Details. Elena Sartori, Melodi Cantores. US | UK | FR | DE | CA | JP
Domenico Scarlatti. Sacred Vocal Music: Stabat Mater, Missa breve La stelle, Te Deum, Magnificat. Naxos 8.570382 (1 CD, November 2007). Morten Schuldt-Jensen, Immortal Bach Ensemble. US | UK | FR | DE | CA | JP
Domenico Scarlatti. Stabat Mater. Ricercar (1 CD, November 2007). Details. Vox Luminis. Other works on this CD: Te Deum, Salve Regina, Miserere, 2 sonatas. US | UK | FR | DE | CA | JP
Domenico Scarlatti. Complete Keyboard Works. Brilliant Classics 93546 (36 CDs, 2001-2007). Details. Pieter-Jan Belder, harpsichord, fortepiano & organ, Musica Amphion. US | UK | FR | DE | CA | JP
Domenico Scarlatti. Duende. Paradizo (1 CD, May 2007). Skip Sempé & Olivier Fortin, harpsichords. UK | DE | FR | JP
Domenico Scarlatti. Cantatas. Capriccio 67 173-2 (CD + DVD 2006). Max Emmanuel Cencic, countertenor. Aline Zylberajch, fortepiano; Maya Amrein, cello; Yasunori Imamura, theorbo & guitar. US | UK | DE | FR | JP
Domenico Scarlatti. Cantate d'Amore. Capriccio 67 067-2 (1 CD 2003). Max Emmanuel Cencic, countertenor. Karsten Erik Ose, Ornamente 99. US | UK | DE | FR | CA | JP
Domenico Scarlatti. Le Pianoforte de Maria Barbara. Assai 222612 (1 CD 2004). Reissued on Ambronay AMY002 (October 2005) as Una Nova Inventione per Maria Barbara. Aline Zylberajch, fortepiano by Denzil Wraight after Cristofori-Ferrini. 2005 NewOlde.com Best Early Keyboard Recording. One of the finest fortepiano recordings I have heard. US | UK | FR | DE | CA | JP
Polyphonic Music of the Scarlatti Family. Etcetera KTC 1298 (1 CD, February 2006). Alessandro Scarlatti, Salve Regina Op. 2 No. 10; Domenico Scarlatti, Missa Quatuor Vocum (di Madrid) & Magnificat anima mea; Francesco Scarlatti, Miserere mei Deus. Details. Florian Heyerick, Ex Tempore. US | UK | DE | FR | CA | JP
Domenico Scarlatti. Sonatas, Volume III. Mirare MIR 007 (1 CD, November 2005). Pierre Hantaï, harpsichord. US | UK | DE | FR | CA | JP
Domenico Scarlatti. Sonatas. Capriccio 67112 (1 CD 2004). Linda Nicholson, fortepiano by Denzil Wraight after Cristofori-Ferrini. US | UK | DE | CA | JP
Domenico Scarlatti. Stabat Mater a dieci voci, Missa Quatour Vocum. Naïve / Opus 111 OP 30248 (1 CD 2002). Rinaldo Alessandrini, Concerto Italiano. US | UK | DE | FR | CA | JP
Domenico Scarlatti. Sonatas, Volume II. Mirare (1 CD, March 2005). Pierre Hantaï, harpsichord. US | UK | DE | FR | CA | JP
Domenico Scarlatti. Sonatas, Volume I. Mirare 9918 (1 CD 2002). Pierre Hantaï, harpsichord. US | UK | DE | FR | CA
Domenico Scarlatti. Complete Keyboard Works. Stradivarius.

Vol. 1. Spanish Influence. Emilia Fadini, harpsichord. STR 33500 (1 CD 1999). US | UK | DE | FR | CA | JP

Vol. 2: The Italian Manner. Ottavio Dantone, harpsichord. STR 33501 (1 CD 2000). US | UK | DE | FR | CA | JP

Vol. 3: Iberian Naples. Sergio Vartolo, harpsichord & organ. STR 33502 (1 CD 2000). US | UK | DE | FR | CA | JP

Vol. 4: The Italian Manner, Part II. Ottavio Dantone, harpsichord. STR 33503 (1 CD 2001). US | UK | DE | FR | CA | JP

Vol. 5: Scarlatti as chosen by Clementi. Emilia Fadini, fortepiano. STR 33618 (1 CD 2002). US | UK | DE | FR | CA | JP

Vol. 6. The Harmonic Research. Marco Farolfi, harpsichord & fortepiano. STR 33619 (1 CD 2003). US | UK | DE | FR | CA | JP

Vol. 7. The Italian Manner, Part III. Ottavio Dantone, harpsichord. STR 33621 (1 CD 2004). US | UK | DE | FR | CA | JP

Vol. 9. Scarlatti and the Organ. Maria Cecilia Farina, organ. STR 33667 (1 CD 2005). US | UK | DE | FR | CA | JP

Vol. 10. The Mandolin Sonatas. Mauro Squillante, mandolino. Vrenna Raffaele, harpsichord. STR 33710 (1 CD, April 2007). DE | FR
Domenico Scarlatti. Lettere Amorose. Virgin Veritas 545 546-2 (1 CD, April 2003). Alan Curtis, Il Complesso Barocco. Patrizia Ciofi, soprano; Anna Bonitatibus, mezzo-soprano. Cantatas, harpsichord sonatas, and arias from the operas Tolomeo et Alessandro (1711) and L'Ottavia restituita al trono (1703). Superb recording. Domenico Scarlatti's distinctive style is nearly as apparent in his opera arias as in his later keyboard music. US | UK | DE | FR | CA
Domenico Scarlatti. La Contesa delle Stagione. Bongiovanni GB 2304-2 (1 CD 2002). Favorably reviewed by David J. Levy in Early Music Review 89: 18-19 (April 2003). Luca Franco Ferrari, Il Concerto Ecclesiastico. Primavera: Silvia Piccollo; Estate: Elisa Franzetti; Inverno: Vera Marenco; Autumno: Vito Martino. The first and only surviving part of a large-scale serenata written to celebrate the birthday of Queen Maria Ana Josefa of Portugal in 1720. US | UK | FR | DE | CA | JP
Domenico Scarlatti. Tetide in Sciro (1713). Pro Musica Camerata (Poland) PMC 030/031 (2 CDs). Details. Lilianna Stawarz, Musicae Antiquae Collegium Varsoviense. Marzanna Rudnicka, Marta Boberska, Dorota Lachowicz, Wojciech Parchem, Jarosław Bręk and Andrzej Klimczak. US | UK | DE
Domenico Scarlatti. Sonatas. Teldec 0630126012 (1 CD 1996). Andreas Staier, harpsichord. US | UK | DE | FR | CA | JP
Domenico Scarlatti. Sonatas Vol. I. dhm 05472-77224-2 (1 CD 1991). Andreas Staier, harpsichord. US | UK | DE | FR | CA | JP

Vol. II. dhm 05472-77274-2 (1 CD 1992). US | UK | DE | FR | CA | JP

Reissued in the Andreas Staier Edition. dhm 82876673752 (2 CDs 2005). US | UK | DE | FR | CA | JP
Domenico Scarlatti. Complete Keyboard Works. Erato 2292-45309-2 (34 CDs 1988). Scott Ross, harpsichord. Includes "Analytical catalogue of Domenico Scarlatti's keyboard works" by Alain de Chambure (202 pages, 23cm x 14cm, French/English with incipits) and "Profile: Scott Ross" (color, 16 pages). Recorded in 98 sessions in 1984-5. US | UK | DE | FR | CA | JP

Reissued on Warner Classics 2564620922 (2005). Booklets may be missing. US | UK | DE | FR | CA | JP
Domenico Scarlatti. La Dirindina (1715). Bongiovanni GB 2026 (1 LP 1985), reissued on CD 2026 (1994). Fabio Maestri, Complesso da camera dell'Associazione Filarmonica Umbra. Don Carissimo: Georgio Gatti, baritone; Dirindina: Kate Gamberucci, soprano; Liscione: Gianfranco Mari, sopranist. US | UK | DE | FR | CA | JP
Books
Roberto Pagano, translated by Frederick Hammond. Alessandro and Domenico Scarlatti: Two Lives in One. Details. Pendragon Press 2007. US | UK | DE | FR | CA | JP
Matthew Flannery. A Chronological Order for the Keyboard Sonatas of Domenico Scarlatti 1685-1757. Details. 348 pages. Edwin Mellen Press 2004. US | UK | DE | FR | CA | JP
W. Dean Sutcliffe. The Keyboard Sonatas of Domenico Scarlatti and Eighteenth Century Music Style. Cambridge University Press, 2003. 412 pages. US | UK
Brian Pritchard (ed.) Antonio Caldara - Essays on his life and times. Scholar Press 1987. 424 pages. Includes Olga Termini, "L'Irene in Venice and Naples: tyrant and victim, or the rifacimento process examined." Domenico Scarlatti revised Pollarolo's L'Irene for Naples performances in 1704. The score of the original Venice version survives, along with an aria collection from the Naples version. Scarlatti composed 32 arias and one duet for the Naples version, for which Pollarolo also wrote some new music. The article includes an appendix showing the status of each aria in both versions. US | UK | DE | FR | CA | JP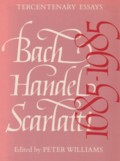 Peter Williams (ed.) Bach Handel Scarlatti - Tercentenary Essays. 363 pages. Cambridge University Press 1985. Contents include: Muzio Clemente as an Original Advocate, Collector and Performer, in Particular of J.S. Bach and D. Scarlatti, by Stephen Daw; The 'Dotted Style' in Bach, Handel, and Scarlatti by David Fuller; Keyboard Technique and Articulation: Evidence for the Performance Practices of Bach, Handel and Scarlatti by Mark Lindley; Bach, Handel, D. Scarlatti and the Toccata of the Late Baroque by Giorgio Pestelli; Remarks on the Compositions for Organ of Domenico Scarlatti by Luigi Ferdinando Tagliavini; and Figurae in the Keyboard Works of Scarlatti, Handel and Bach: An Introduction, by Peter Williams. US | DE
Otto Biba & David Wyn Jones (eds.) Studies in Music History: Presented to H.C. Robbins Landon on his 70th Birthday. 272 pages. Thames & Hudson 1996. Contents include: 'The music very good indeed': Scarlatti's Tolomeo et Alessandro rediscovered, by Malcolm Boyd. US | UK | DE